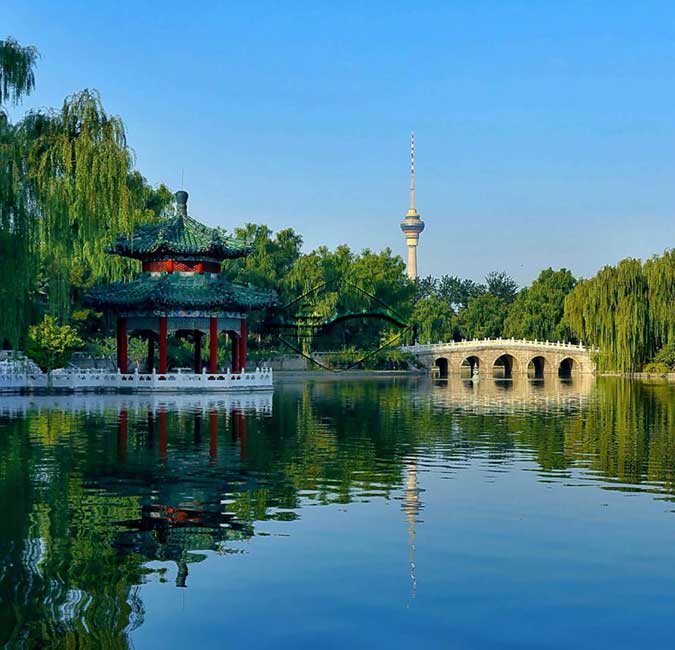 Diaoyutai State Guesthouse (DSG), located in the Ancient Diaoyutai Scenic Area in the western suburbs of Beijing, is a major place for the Party and state leaders to hold domestic and diplomatic activities. It is mainly used to receive state and government heads, and social celebrities. Since its establishment, the DSG has received over 1,400 state and government heads around the world. It is attractive for people at home and abroad.
Ancient Diaoyutai is one of the famous gardens in the western suburbs of Beijing, and it gets the present name because Emperor Zhangzong (1168-1208) of the Jin Dynasty built a pavilion for angling. In 1958, one guesthouse was decided to build here for receiving heads of foreign states and governments coming to attend the 10th anniversary of the founding of the People's Republic of China (PRC). The guesthouse was later named as "Diaoyutai State Guesthouse". When completed in September 1959, the guesthouse covered an area of 420,000m2, including 50,000m2 of lakes. The total building area was 60,000m2. In the past more than six decades, especially after China's reform and opening-up, the State Guesthouse have expanded to 16 reception buildings with distinctive styles, two ancient building complexes, and one grand hotel. The total building area is 170,000m2. It can undertake all sizes of banquet and conference activities.
Over years' adherence to the mission of "serving political and diplomatic affairs", the DSG has pursued excellence in the craftsmanship spirit, creating "fresh, elegant and excellent" banquet dishes, "considerate and dignified" service systems, picturesque "royal" gardens, and world-class chef and service teams. On the 50th anniversary of the building of the DSG in 2009, then Foreign Minister Yang Jiechi appraised the DSG as the "diplomatic base, China's image and national pride". On the 60th anniversary of the building of the DSG in 2019, State Councilor and Foreign Minister Wang Yi fully affirmed the contribution of the DSG in diplomatic service, and hoped "the guesthouse will turn into a world-class hotel with the best reception services and the best food culture. The guesthouse should develop into a platform of carrying forward the Chinese civilization, strengthening exchanges between China and other countries, and serving major-country diplomacy."
The Guesthouse today is closely related to our history, and synchronizes with the times. Looking ahead, the DSG will continue to follow the "meticulous and perseverant" spirit, and offer global guests the "Diaoyutai experience" through delicious food, exquisite utensils, considerate services and marvelous environment.